MUSIC ARTIST MASTERCLASS
SONGWRITE. MIX & MASTER. CREATE ARTWORK. DISTRIBUTE TO SPOTIFY, ITUNES ETC.
I CREATED MUSIC THAT GENERATED +163K SPOTIFY, +170K YOUTUBE STREAMS IN 1 YEAR.
LEARN HOW YOU CAN DO IT TOO,
WITH MY GUIDED STEP BY STEP VIDEO TUTORIALS.
A BEGINNER FRIENDLY MASTERCLASS WITH LAURA DRE
MASTERCLASS PRICING
Special sale for founding students! Only until 15th of April!
---
As a founding student you will get the following benefits:
Becoming a founding student will greatly help in covering the costs for the hosting & private video platforms and my time to created tailored content for you. My intentions are to create unique and valuable courses – an all-in-one platform – that's built with your help, so you can achieve your dream goals with my guidance and efficiency! So if there's anything you need help with, just let me know! I will happily create any extra content necessary, so you and others can also enjoy the music success you deserve!

*This course is still being build, modules will unlock immediately when available for Platinum Membership students.
For Bronze, Silver, Gold Membership students: Any remaining modules will be unlocked after payment plan completion,
which is when your account will be upgraded to Platinum Membership. Payment plans only work with PayPal.
For any questions feel free to email me at info @ lauradre.com
COURSE DETAILS
Requirements
Apple Mac with Logic Pro X (DAW)
Midi Keyboard
For recording vocals, bass or guitar:
Audio Interface (i.e. Focusrite, ID-14, Apollo Twin)
A cardioid condenser microphone (i.e. Audio Technica AT2020) with XLR connector to connect to interface
For users with a different DAW:
You can use a different DAW i.e. Studio One, Ableton Live, FL Studio, Reaper etc., they all have the same functionalities, however note that you will need to do your own research.
Note for Garageband users: This course is not suitable for Garageband due to restricted functionalities. Please upgrade to Logic Pro X by purchasing it through the app store.
Content Details
Course Content: 70 – 90 videos
Instructor: Laura Dre
Course Level: Beginner
Starts: May 1st, 2022
Course Benefits
YOUR SUCCESS IS MY SUCCESS.
MY GOAL IS TO GET
YOU RESULTS FAST.
MUSIC ARTIST MASTERCLASS
COURSE MODULES
This video is an example of the following tutorials: 1. Introduction into Logic Pro X; 2. working with keyboard shortcuts and 3. how to create artwork for your single / album.
01
LOGIC PRO X
Learn the Logic Pro X environment. I will show you everything you need to setup.
02
EDIT FAST
Audio editing made simple, easy and fast. Download practice samples and follow along.
03
DRUM PROGRAMMING
Learn midi drum programming and various other techniques to setup the stage for your first song.
04
RECORDING
Learn how to record professional sounding vocals, guitar and bass.
05
SONGWRITING
Struggling with lyrics? I'll teach you methods and techniques how to write cleverly written lyrics.
06
MIXING
Learn all about mixing from the basics to advanced. I'll cover everything you need to know.
07
MASTERING
Learn mastering basics to polish your song in order to upload it to streaming platforms, radio, sync agencies, etc.
08
ARTWORK
Learn how to create your own cover artwork.
A full tutorial is provided in Photoshop.
09
PRE EP LAUNCH
Learn what you need to do before officially launching your EP.
10
DISTRIBUTION
Learn how to distribute music to Spotify, iTunes, Amazon, etc.
11
ONLINE PROFILE
Learn how to create your own website and setting up social media profiles.
12
MARKETING
Learn methods and techniques to build your audience.
13
MERCHANDISE
Learn how to create mock-ups and pre-sell merchandise without having any or paying upfront!
14
CROWDFUNDING
Learn how to successfully crowdfund a vinyl campaign with Kickstarter.
15
RECORD LABEL
Learn how I got signed with a record label and pros and cons of self release vs label.
16
GIGS & TOURS
Learn how to create mock-ups and pre-sell merchandise without having any or paying upfront!
17
MUSIC VIDEO
Learn how to create a DIY music video.
18
MULTIPLE INCOME STREAMS
Learn about sources to achieve multiple income streams.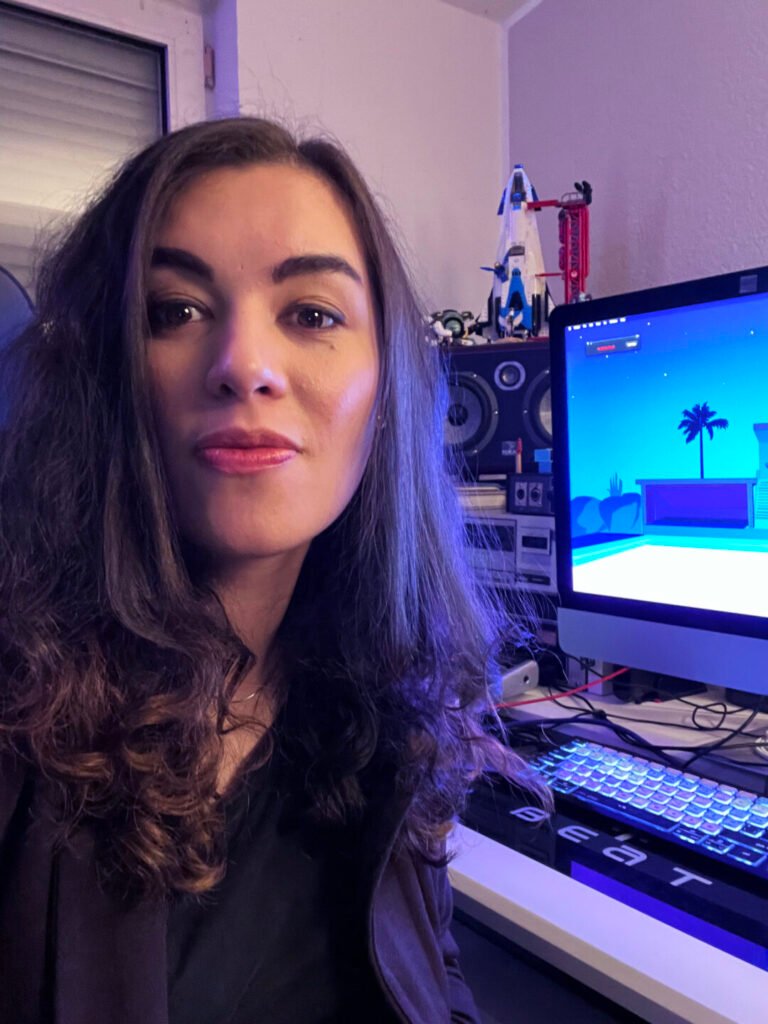 About Me
Artist & Music Production Tutor
Hello! My name is Laura Dre and this is my very first masterclass! 🙂 I've been in music industry since 2001 and I have over +20 years songwriting experience and professionally studied Music Production at BIMM / University of West London, UK graduating with a first class honours.
Commercially I've released over 68 songs, which you can see here on my Spotify playlist. 57 of them within the last 4 years!
My historical achievements include: Getting signed with a record label twice, a sync placement on BBC3's Lip Service (Drama Series), opening up for Kim Wilde on stage (L-Beach Fest 2012), successfully crowdfunding a vinyl on Kickstarter and currently I'm working on the soundtrack for a new video game called Laura Bow 3.
My Portfolio
This is a collection of my self-made designs / artworks. In my masterclass you'll learn how to create your own artwork.
PHYSICAL RELEASES
A collection of my music on other formats. Aren't you excited to create your own merchandise? You should be, because I will show you how! 🙂
Moving Spaces 12″ Vinyl
Limited Edition
Sold Out
Moving Spaces CD
Limited Edition
Low in stock
Moving Spaces Cassette
Limited Edition
Low in stock
Kyoto Dreams 12″ Double LP
Limited Edition
Currently manufacturing
Kyoto Dreams CD
Limited Edition
Low in stock
Kyoto Dreams Cassette
Limited Edition
Sold Out
Testimonials
This is a brand new course, so currently there are no reviews. Please come back later!
Or enrol in my course and become a "founding student" with tons benefits! 🙂
FAQ
After enrolling, what happens next?
Click on the register account button and fill out the google form, make sure your email on the form is matching the email used on checkout. I will then be able to create an account for you when the Music Artist Masterclass is live. The login credentials will be sent to your email.
How long will you need to create the full course?
I will aim to create between 1-3 videos per week and you will be notified when when new content becomes available. The course is very comprehensive so I'm looking to create between 70-90 videos, maybe more (depending on the feedback), which could take more than half a year to build. But don't you worry, you will be very busy with creating your songs!
Will you teach how to record live drums?
No. This course focuses primarily on songs with an electronic drum kit.
Will you teach how to sing, play guitar and bass.
No. That's outside of the scope of the course.
What's your cancellation and refund policy?
You can cancel any time. We will issue a refund for the Music Artist Masterclass that is requested within 14 days after your first day of accessing the course platform and with lessons taken up to the end of module 1. No refunds are issued after the access of module 2.
I have some more questions, how can I contact you?
You can drop me an email at info @ lauradre.com