$10K
WITH YOUR MUSIC FROM $0.
DOWNLOAD MY FREE PDF GUIDE
"31 WAYS OF CREATING MULTIPLE INCOME STREAMS WITH YOUR MUSIC"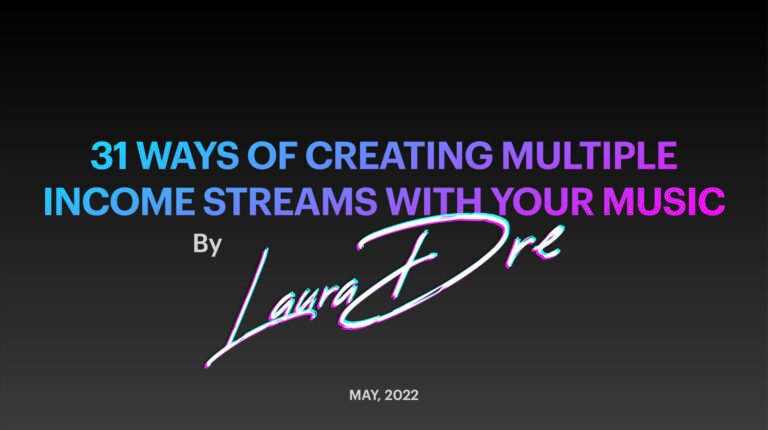 MASTERCLASSES
TURN YOUR HOME RECORDINGS TO PROFESSIONAL SONGS!
BY LAURA DRE
LEARN SONGWRITING. MIX & MASTERING. ARTWORK & VIDEO CREATION. AND MORE!
PRIVATE COACHING, EASY STEP-BY-STEP VIDEO GUIDES AND MUSIC RELEASES THE RIGHT WAY!

GENRE: SYNTHPOP / ELECTROPOP / SYNTHWAVE / MODERN 80S / ALTERNATIVE POP & ROCK / RETROWAVE.
LAURA DRE WAS FEATURED ON


COURSES WILL START FROM 1ST MAY, 2023.
ALL COURSES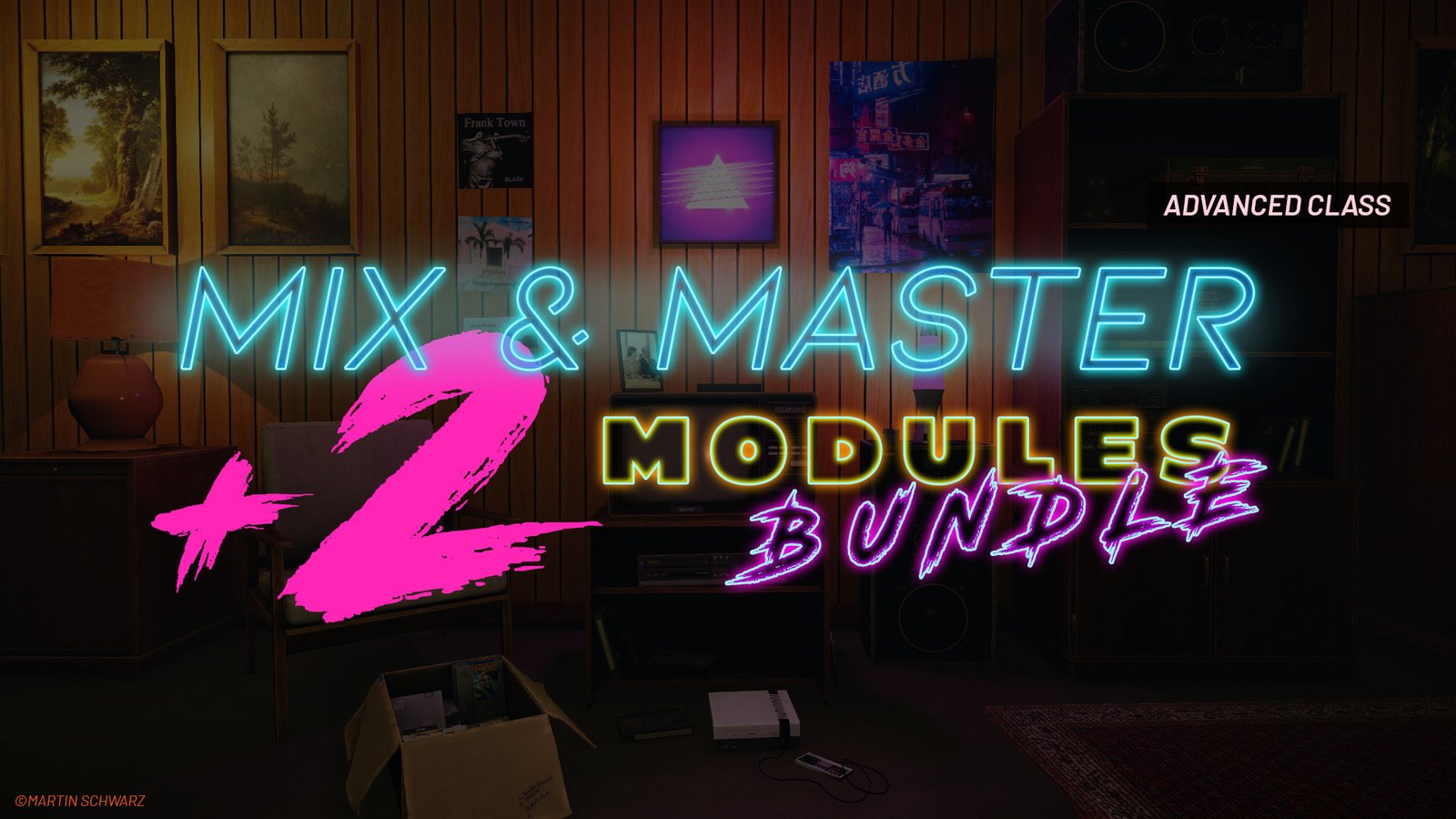 Mix & Master + Composition
---
About the course
This Mix & Master + Composition is ideal for advanced students. It will cover how to record bass & guitar, drum programmaning, arrangement & composition and many other areas! There are also plenty of tasks and exercises + 1 final song mix submission to get feedback.
Electronic Artist Masterclass
---
About the course
This is my flagship course. In this electronic artist masterclass we will focus on the production side of your music! This course is ideal for beginners and includes 45 min. private coaching sessions, 1x final song mix submission, assessments to get the best out of this music production course!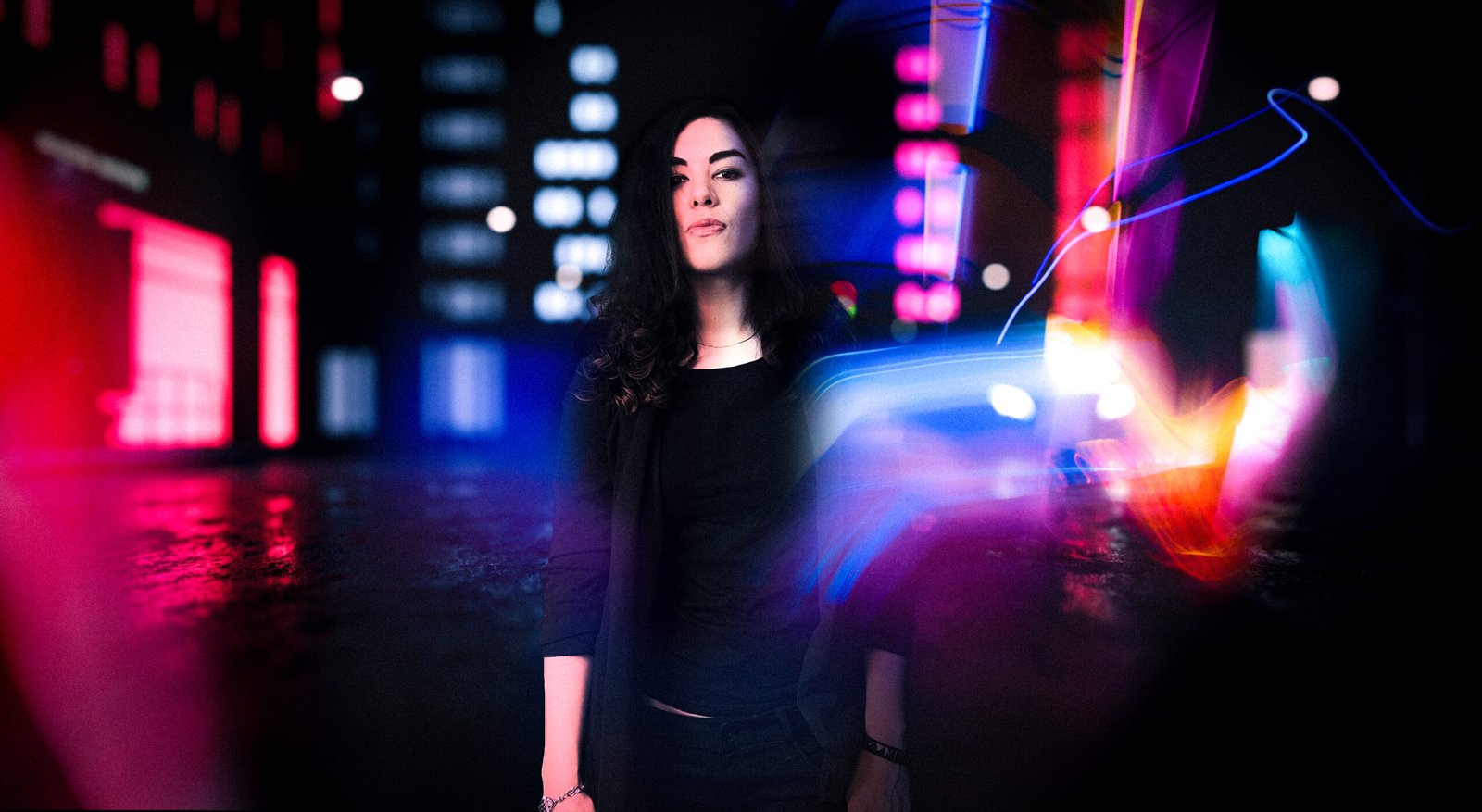 Music Artist Masterclass
---
About the course
In this premium music artist masterclass we will cover everything there is to get your EP / album done! The masterclass contains 120 mins of private coaching sessions, 4x final mix submissions, assessments and a project plan for the best possible EP / album release! Includes guide how to graphic design your artwork and how to crowdfund your release on Kickstarter.
LEARN HOW TO CREATE MUSIC THAT GETS +177K SPOTIFY, +170K YOUTUBE STREAMS + $10K INCOME IN 1 YEAR.
I DID IT FROM ZERO WITH NO AUDIENCE, SO CAN YOU!
If you are an artist who is already on Spotify and earning less than $100 from your music, but would like to change that to +$10,000 a year, then I've got something special for you today. But first let me ask you this – have you ever ever wondered why some people seem to easily create five-figure incomes with music and others just struggle?
I left my well paying project management job to pursue my dream career of becoming a music producer (the industry definitely needs more females on the front as globally there's only 2% of us). I studied music production for 3 years at University West London, and after graduating I wanted to earn income with it. At this point in my life it was pretty tough for me financially and with the pandemic arriving, it took a massive hit on the entire music industry. Whilst I had a few side hustle jobs for producing other artists, I was still struggling so I decided to become an artist myself to maximise the chance of getting discovered and building my music repertoire.
I created my debut album Moving Spaces within 8 months and got a record deal almost instantly with a small indie record label. In the beginning this gave me a confidence boost that my music is good, as we all have doubts about our own music I'm sure. But what's interesting here is that there were some other internal struggles: The artwork for the album and videos. I got rejected by 2 visual artists so I was forced to learn photoshop and design my own artwork as I didn't want to work with anyone else.
And with the music video, I couldn't fly out due to the pandemic so everything had to be done from home. I also had to learn video editing to create small video teasers in order to promote my music. After that happened I came to realise something that changed everything for me: I'm fully capable doing everything myself – The artwork, videos and of course the music. I would have never dreamed of designing everything myself! The sad truth is, you need to learn all of this as the record label you're with or going to be with at some point in your life, will not do these things for you (unless it's a major label or have the funds to hire others). If you're heading towards the DIY Independent artist path then this even more of a reason to learn it all! From my personal experience, if you do everything yourself it creates a lot more value to your fans. They will not see you just a musical artist, but as a REAL artist who expresses themselves audio-visually.
I invested time into learning how to become an "all-around-DIY-artist" and with that, I slowly but gradually built my audience. The orders came in for my album Moving Spaces and reached the point where vinyls and CDs were sold out, my record label had to restock the CDs 4x already. However, this tiny success doesn't mean you're on your way of earning $10K now! It's quite the opposite actually. When you're with a record label, all of the earnings go to the label so they can recoup on any expenses made (i.e. vinyl manufacturing costs, PR etc). So you're not getting anything into your pockets for a while here!
I then released my album Kyoto Dreams which was outside of my record labels agreement, where I owned the masters this time (meaning 100% royalties go to me) and guess what happened? I started earning money for the first time from music! That was quite an achievement and exhilarating, but the best thing was when I launched a crowdfunding vinyl project on Kickstarter (on request of my fans). It was a complete success and was over funded with 134%!
Of course creating and achieving these things (producing music fast, streams, building an audience and earning income) is never an easy task, so that's why I created the "Music Artist Masterclass"!
In my premium masterclass you'll learn:
how to turn your home recordings to professional songs
all about composition and arrangement without needing music theory
how to edit and produce music faster
how to program drums
how to improve writing / producing music because I'm able to give you honest and constructive feedback that you can work with in oder to improve
how to do stunning artwork yourself
how to do video editing
all about music marketing
how to pre-sell your music without spending any money upfront!
how to create a low budget music video from scratch
how to create your own artist website!
how to attract a record label (if you really want one)
how to generate multiple income streams with your music
On top of that:
You'll save money because if you were to study music at a university this will cost you at least $30K, and not everything is covered that I'll be teaching you!
You'll save time, because most of the research is done for you that I've spent weeks or months on!
You'll get quicker results as I'm here to guide you with on your project! My premium course provides personal coaching and a project plan to achieve your goals!
The course is meant to be enjoyable and to save energy so you can focus on the things that matter in order to get your music done
You'll get clear, easy step-by-step video guides which are made from an artist to an artist (unlike other courses where a pro sound engineer shows you how to mix but has zero experience being an artist! – They just leave you hanging there after you complete their mixing course!)
You can say goodbye to production tutorials on YouTube! No more random YT dudes presenting, no more long intros, ads, no more wasting time! – My masterclass will be like an "All-in-one platform" and I'm the sole presenter / tutor that you can directly reach out to! Literally any time!
There is a dedicated "members only area" on my website that will give you access to additional content like resources for further studies, freebies and a student community channel on my Discord server.
Ready to get things rolling? I currently have 2 masterclasses: a flagship course (EAM) and a premium course (MAM). Each have their own value depending on your goals:
The Electronic Artist Masterclass (EAM), which has a primary focus on learning electronic music production – priced at 997€.

The Music Artist Masterclass (MAM), which is my premium course (it has the EAM included + all other elements to market your music and generate income from it). The premium course is priced at 1997€ and includes lessons in Songwriting, Photoshop, Davinci Resolve (video editor), pre-selling music, how to successfully crowdfund on Kickstarter and you'll receive personal coaching + constructive music feedback.
If you join by 30th of June 2022 (before the beta student membership closes), you can get access to my course with 50% off! Just click on the pre-order or monthly plan button of your desired course and enter code BETASTUDENT50 during checkout. Afterwards you have access to the members only area where you can begin diving into the content and community!
30-Day money back guarantee if you don't like the course!
-Laura Dre
My first music release was on 01.01.2021 as you can see in the screenshot.
Since then I've been gradually building my audience.
RECORD GALLERY
COURSES WILL START FROM 1ST MAY, 2023
Course Comparison
MAM = MUSIC ARTIST MASTERCLASS
EAM = ELECTRONIC ARTIST MASTERCLASS
| | | | |
| --- | --- | --- | --- |
| Course Modules | | MAM | EAM |
| Module 1: Course Preparation | | ✔ | ✔ |
| Module 2: The basics of your DAW | | ✔ | ✔ |
| Module 3: First Practice Mix | | ✔ | ✔ |
| Module 4: Audio & Data Management | | ✔ | ✔ |
| Module 5: Song Structure and Arrangement | | ✔ | ✔ |
| Module 6: Drum Programming | | ✔ | ✔ |
| Module 7: Adding Bass & Guitar | | ✔ | ✔ |
| Module 8: Adding Synthesizers | | ✔ | ✔ |
| Module 9: Songwriting – Focusing on lyrics | | ✔ | ✘ |
| Module 10: Recording Vocals | | ✔ | ✔ |
| Module 11: Mixing | | ✔ | ✔ |
| Module 12: Mastering | | ✔ | ✔ |
| Module 13: How To Create Eye-catching Cover Artwork | | ✔ | ✘ |
| Module 14: Distribution | | ✔ | ✘ |
| Module 15: Pre-EP / Album launch | | ✔ | ✘ |
| Module 16: Online Profile | | ✔ | ✘ |
| Module 17: Marketing | | ✔ | ✘ |
| Module 18: Merchandise | | ✔ | ✘ |
| Module 19: Crowdfunding | | ✔ | ✘ |
| Module 20: Record Label | | ✔ | ✘ |
| Module 21: Gigs & Tours | | ✔ | ✘ |
| Module 22: Music Video | | ✔ | ✘ |
| Module 23: Multiple Income Streams | | ✔ | ✘ |
| Amount of lessons | | 165 | 91 |
| Initial Project Call | | ✔ | ✔ |
| Project Plan | | ✔ | ✘ |
| Private coaching session (in min) | | 120 | 45 |
| Song submissions for feedback | | 4 | 1 |
| Certificate | | ✔ | ✔ |
Discover your potential,
starting today