Laura Dre releases her debut album 'Moving Spaces'
Hi all, finally blog #5 here with my debut album Moving Spaces out in stores! 🙂 I've been so busy the past weeks / months that I barely had any time to write any posts. It feels like such a relief off my shoulders as there was so much work involved in everything. For example, constant mix checks and providing feedback. Then there was video editing teaser videos to final quality checks after mastering. As you can see, it's a lengthy process with many details. There is also the artwork that took a huge portion of my time. Although I had the option to go with any other external graphic designer, I decided I'd rather design things myself, being a complete DIY artist. I had to ensure that absolute everything was top quality. I feel that when you make things yourself there's always a very personal touch to the things you create. And also things are more in line with the music. That said I will also design my other upcoming artworks in the same citypop style like my moving spaces artwork.
Aside from that, it was also very lovely to sign autographs for everyone. I really enjoyed that and I'm happy to give something back to my early supporters, who pre-ordered my album and haven't heard much about my music nor know who I am. Anyway, in this blog I will explain the meaning behind 'Moving Spaces', there's also a 'behind the scenes' note from film director Ice Elloso and an update on the album II. Enjoy!
https://hypeddit.com/link/fal543
Buy / Stream Laura Dre – Moving Spaces album here:
If you're in Tokyo, Japan you can now visit following record store to buy a Laura Dre – Moving Spaces CD:
Alameda Records
Japan, 〒150-0042 Tokyo, Shibuya City, Udagawacho, 36−2 ノア渋谷 812
〒150-0042 東京都渋谷区宇田川町36−2 ノア渋谷 812
+81354560187
MM6W+RV Shibuya City, Tokyo, Japan
You can show them some luv' by giving these guys a follow – they are the first record store in Japan to carry Laura Dre products. 🙂
Insta: https://www.instagram.com/alamedarecords_official/
Laura Dre – Moving Spaces (Official Music Video)
The song "Moving Spaces" itself is all about moving forwards and backwards in life and relationships, similar to being on a chessboard: people take 1 step forward or backwards into a different space.
The director Ice Elloso filmed at different locations in Tokyo, i.e. being in an elevator "going up and down", walking, driving in a car to "move spaces", which captures the nature of the song.
Apart from the physical space, there is also the emotional space between people. The video shows a hologram which in essence, can be interpreted as being in a long-distance relationship.
You can be as far away from each other but still feel close partially thanks to technology, here with one person represented as a hologram.
The song is also sung in a melancholic, but somewhat nonchalant vocal style, to also show the "sad space" when you're physically with someone, but aren't connected emotionally, because it's a one-way road – the path of unrequited love.
Vinyl
Limited Edition 12″ Vinyl of Laura Dre's album 'Moving Spaces' – only via Outland Recordings and limited to 100 copies
PRE-ORDERS INCLUDE A VERY LIMITED EDITION PERSONALISED AUTOGRAPHED POSTCARD FROM LAURA AND A FREE DOWNLOAD BONUS TRACK!
Pressed on 12" Light Blue-Coloured Heavy Weight (180g) Vinyl
Limited Edition Classic Banderole Obi Strip
Gloss laminated full colour sleeve featuring artwork by Laura Dre
Shrink-wrapped and packed in a sturdy MusicMax QP2 corner-protected LP mailer
CD
Laura Dre's album 'Moving Spaces' – available on CD Digipak w/ Lyric Booklet! Only via Outland Recordings
PRE-ORDERS INCLUDE A VERY LIMITED EDITION PERSONALISED AUTOGRAPHED POSTCARD FROM LAURA AND A FREE DOWNLOAD BONUS TRACK!
Limited Edition 50 Copies
Professionally Duplicated
Full colour 4-panel Digipak CD cover and 2-page Lyric Booklet
Limited edition Obi Strip and shrink wrapped
Full colour print on CD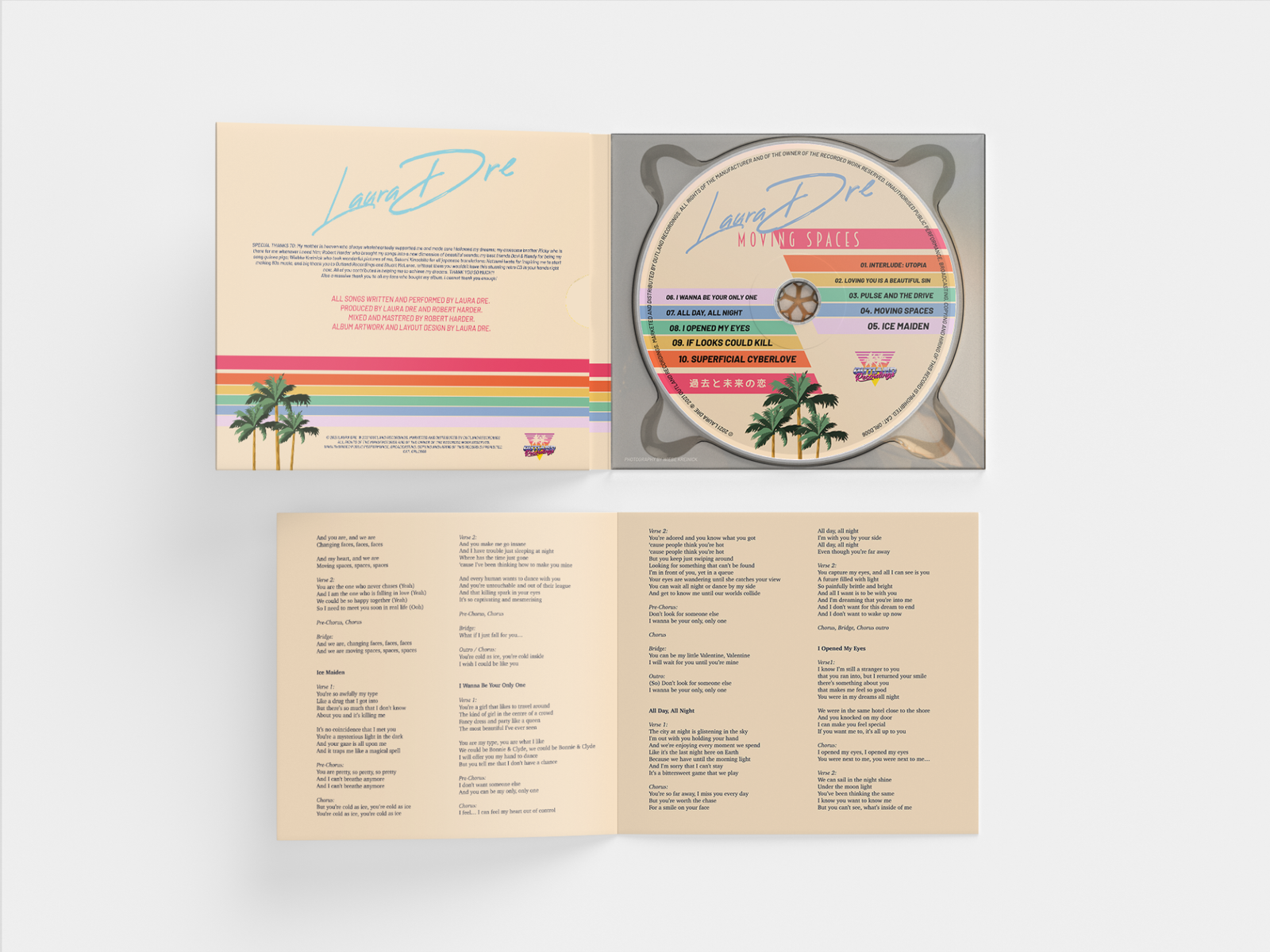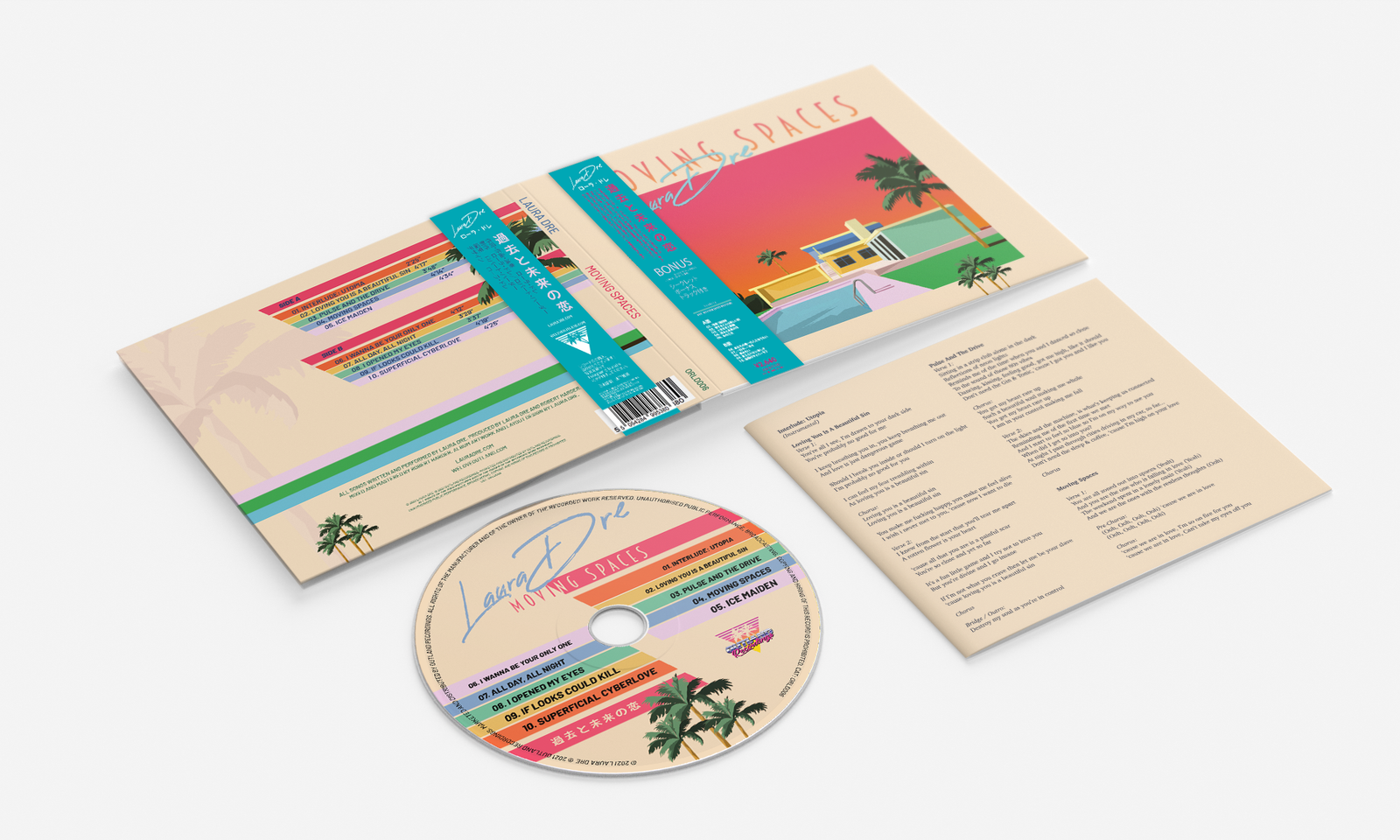 Laura Dre's album 'Moving Spaces' – available on Cassette! Only via Outland Recordings
PRE-ORDERS INCLUDE A VERY LIMITED EDITION PERSONALISED AUTOGRAPHED POSTCARD FROM LAURA AND A FREE DOWNLOAD BONUS TRACK!
Limited Edition 100 Copies
Professionally Duplicated with double-sided full colour printing on the cassette and a double-sided full colour printed J-card in the case
Direct print on cassette shell (Choice of Turquoise or Sunset Orange)
Limited edition Obi Strip and shrink wrapped
Ice's website: https://www.ice-elloso.com/
Laura Dre – Moving Spaces – Behind the scenes:
"When creating the concept for the music video for Laura Dre's "Moving Spaces" I focused mainly on what is "space" between two people.
There is physical space, then there's "emotional" space. A long distance relationship (hence the hologram date scenes) portrays that even when there is a great physical space, people can still be emotionally close to each other.
Which is actually the situation for a lot of people during this pandemic. But then in the end, I also question is emotional closeness on it's own enough?
This is what @lauradre is thinking while she watches the memories (projections on her face.)
For the visuals, I also played around with spaces that are moving e.g. being in a car, being in an elevator, walking, crossing a bridge… Who knew puns are still valuable in 2021
Shooting a music video in the midst of a pandemic certainly has limitations but it's also the perfect time to think outside the box.
I could only shoot in Tokyo and @lauradre could only shoot herself with a phone in her apartment in Germany. The solution: turn her into a hologram so she can enter the Japanese border and doesn't need to quarantine!
Location challenges
Another challenge during this shoot was that State of Emergency protocols in Tokyo. They only allow establishments to be open until 8pm and do you know what time it actually gets dark here during summer: 7:30pm.
So it was basically a week of 1-2 hours shoot for me in the following locations:

Shinjuku (almost everywhere but DO NOT shoot in Golden Gai without permission)
Azumabashi and Shin
Ohashi bridges on the Sumida river
Tokyo Dome Hotel elevators
Shibuya Parco Rooftop
Everywhere in between in a Mazda 3 (I will fight anyone who says it's not the perfect date car)."
Follow Ice on Insta: https://www.instagram.com/ice.elloso/
Current Album II status
I still haven't thought about a name, hence 'Album II' lol – but rest assured it's currently in the making.
I'm about 2-3 songs away from completing it. In fact next week on the 4th August at 3pm BST / 4pm CET / 11pm JP I will reveal the first 30 second teaser for my upcoming album.
All I can say right now is that album II is a little bit more on the pop side / edge of mainstream but still has elements of 80s retro sounds in it. I'm preserving this! Otherwise it wouldn't be Laura Dre anymore. 🙂
Laura Dre Tour schedule
Sadly no update to report. We're still looking to book the first shows in Japan next year, but again, this will also depend on the pandemic & travel situation.
Right now we are also considering a full tour through Asia from Hong Kong, Korea to Thailand and Philippines.
Bandcamp: Laura Dre – Moving Spaces Deluxe bundles & CD's running low in stock!
As of 29th of July 2021 there are only 5 CD's and 2 Deluxe Bundles remaining, so we're very close of selling out these items. LP's are also low in stock with less than 20 left. To get one visit https://lauradre.bandcamp.com/